Gone are the days of going to the library, studying numerous books, taking notes on paper, and doing research. Thanks to technology, we no longer have to do this tedious routine to do research. However, research is still a meticulous, painstaking process. This is why we decided to uncover some of the best software tools for researchers that are going to help you conduct and maintain your research with ease. Read on…
Top 16 Tools for Researchers in 2022
Research today is dynamic. We often use the internet to browse websites, watch videos, study analytics, and conduct our research by exploring different types of digital content, making technology a major stakeholder in making our research success. While the internet has made it easy for us to access worldly information with the click of a button (or mouse!), it has created a whole new set of problems. Sorting through a seemingly infinite number of websites, verifying content, and curating only the best stuff can take a lot of time and effort. This is why we have brought you 13 essential research tools every researcher should use while working on the internet.
List of Top 16 Tools for Researchers in 2022
A. Research Management Tools
1. MarginNote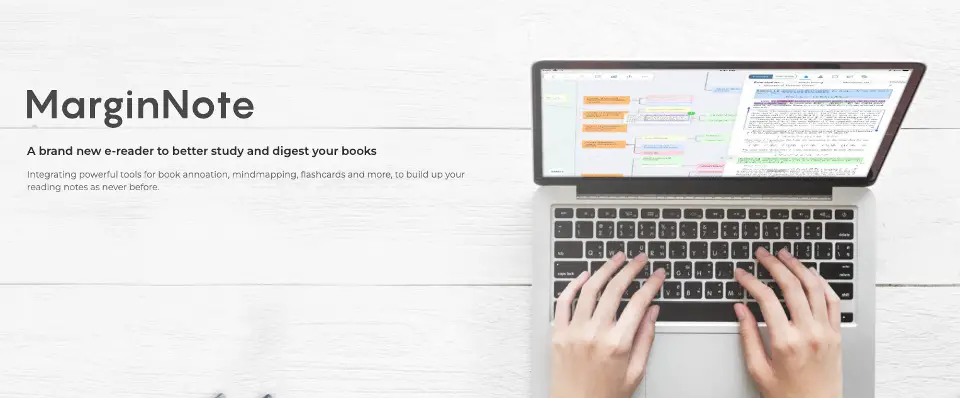 MarginNote is a powerful reading tool for learners. Whether you are a student, a teacher, a researcher, a lawyer or someone with a curious mind to learn, MarginNote can help you quickly organize, study and manage large volumes of PDFs and EPUBs. Integrating powerful tools for book annoation, mindmapping, flashcards and more, to build up your reading notes as never before. All in one learning app enables you to highlight PDF and EPUB, take note, create the mind map, review flashcards, and saves you from switching endlessly between different Apps. MarginNote is available on Mac, iPad, and iPhone, and they all have almost the same features. All content will be automatically synced when switching from one device to another with iCloud enabled. MarginNote even supports Wifi transfer – so you can one-click sync multiple notebooks & books or the whole library.
2. Zotero

Zotero is a free, easy-to-use tool to help you collect, organize, cite, and share research. It is available for Mac, Windows, and Linux. Zotero is the only software that automatically senses research on the web. Need an article from JSTOR or a preprint from arXiv.org? A news story from the New York Times or a book from a library? Zotero has you covered, everywhere. Zotero helps you organize your research any way you want. You can sort items into collections and tag them with keywords. Or create saved searches that automatically fill with relevant materials as you work. Zotero instantly creates references and bibliographies for any text editor, and directly inside Word, LibreOffice, and Google Docs. With support for over 100,000 citation styles, you can format your work to match any style guide or publication.
3. RefWorks

RefWorks is a web-based commercial reference management software package. Users' reference databases are stored online, allowing them to be accessed and updated from any computer with an internet connection. Institutional licenses allow universities to subscribe to RefWorks on behalf of all their students, faculty and staff. Individual licenses are also available. The software enables linking from a user's RefWorks account to electronic editions of journals to which the institution's library subscribes. RefWorks makes research management and paper-writing easy. Start saving yourself time today, try RefWorks and be more productive. RefWorks is accurate – select from thousands of customizable citation styles to use within authoring tools.
4. EndNote

Did you know that researchers waste nearly 200,000 hours per year formatting citations? Imagine if you could have that time back to spend on your research. EndNote 20 accelerates your research process so you can focus on what truly matters – conducting and sharing groundbreaking research. EndNote is a commercial reference management software package, used to manage bibliographies and references when writing essays, reports and articles. EndNote X9 is the reference management software that not only frees you from the tedious work of manually collecting and curating your research materials and formatting bibliographies but also gives you greater ease and control in coordinating with your colleagues.
5. Mendeley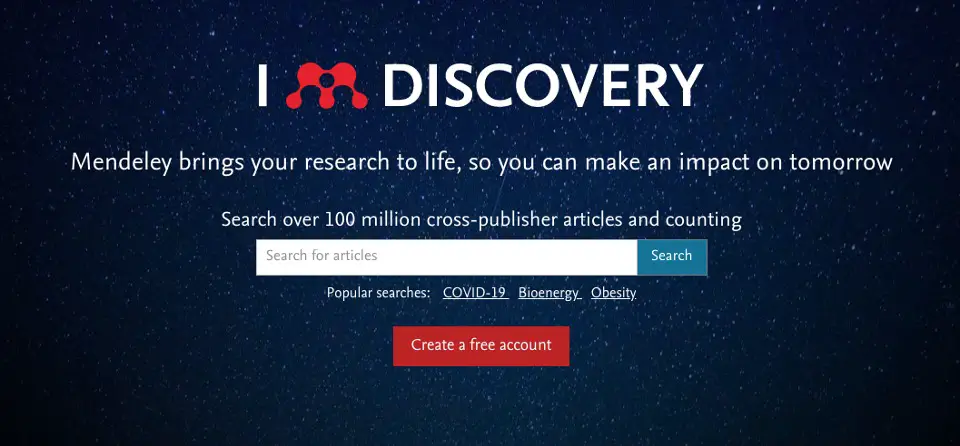 Mendeley is a company based in London, UK, which provides products and services for academic researchers. It is most known for its reference manager which is used to manage and share research papers and generate bibliographies for scholarly articles. Mendeley was named after the biologist Gregor Mendel and chemist Dmitri Mendeleyev, and founded in London in November 2007 by three German PhD students. Mendeley Desktop is free academic software (Windows, Mac, Linux) for organizing and sharing research papers and generating bibliographies with 1GB of free online storage to automatically back up and synchronize your library across desktop, web and mobile.
6. Readcube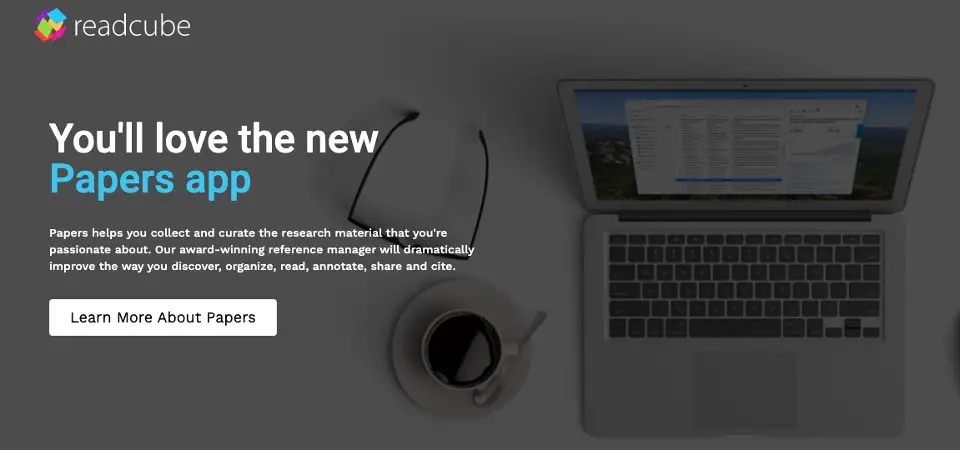 ReadCube is a technology company developing software for researchers, publishers, academic and commercial organizations. ReadCube's product line includes the reference manager ReadCube Papers, Anywhere Access and custom services for publishers. It is part of the Digital Science's portfolio. The ReadCube Papers app suite is under development based on the original ReadCube and Papers applications. ReadCube is a desktop and browser-based program for managing, annotating, and accessing academic research articles. It can sync your entire library including notes, lists, annotations, and even highlights across all of your devices including your desktop (Mac/PC), mobile devices (iOS/Android/Kindle), or even through the Web.
7. Qiqqa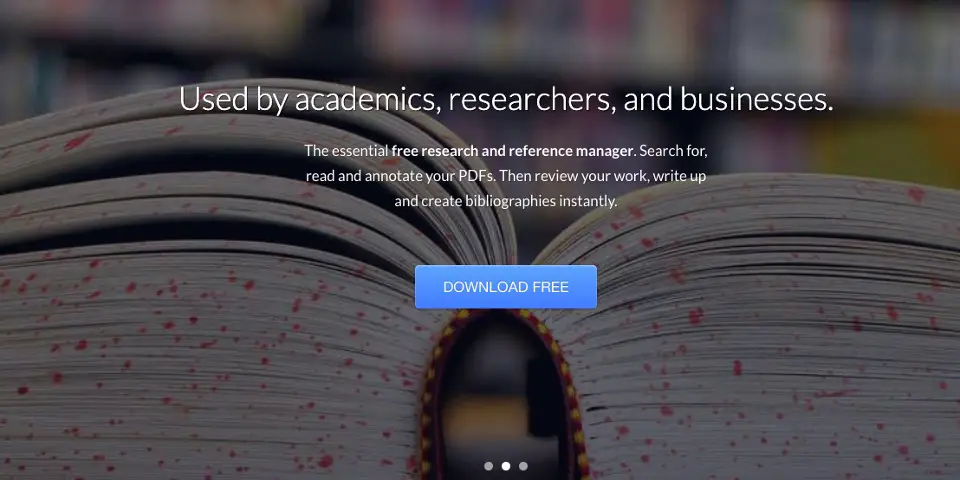 Qiqqa is a free research and reference manager. Its free version supports supercharged PDF management, annotation reports, expedition, Ad-supported, and 2GB free online storage. The essential free research and reference manager. Search for, read and annotate your PDFs. Then review your work, write up and create bibliographies instantly. Qiqqa keeps all your PDFs secure and makes them instantly accessible and searchable across all your devices. Automatic identification, tagging and categorization of your PDFs means you never have to go hunting for that missing paper again.
B. Reference/Index Resources
1. Google Scholar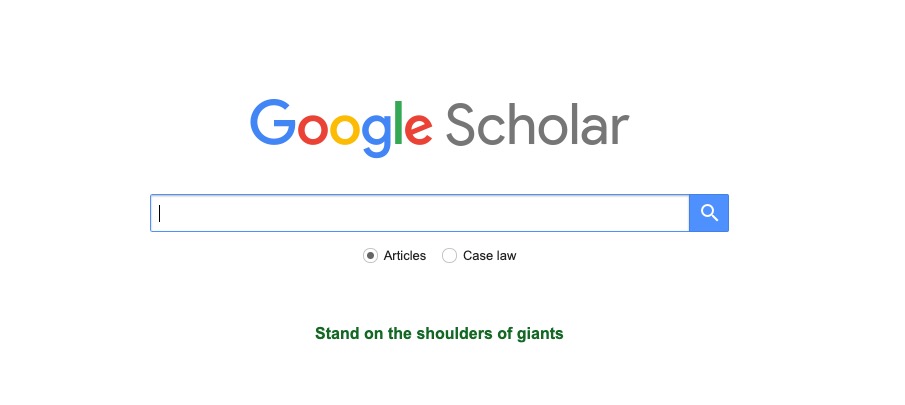 Google Scholar is a freely accessible web search engine that indexes the full text or metadata of scholarly literature across an array of publishing formats and disciplines. It includes most peer-reviewed online academic journals and books, conference papers, theses and dissertations, preprints, abstracts, technical reports, and other scholarly literature, including court opinions and patents. Within Google Scholar you may conduct searches by keyword, author and article title. There is also an advanced search with more options. 
2. arXiv

arXiv (pronounced "archive") is a repository of electronic preprints (known as e-prints) approved for publication after moderation, that consists of scientific papers in the fields of mathematics, physics, astronomy, electrical engineering, computer science, quantitative biology, statistics, and quantitative finance, which can be accessed online. In many fields of mathematics and physics, almost all scientific papers are self-archived on the arXiv repository. arXiv is a free distribution service and an open-access archive for 2,036,494 scholarly articles in the fields of physics, mathematics, computer science, quantitative biology, quantitative finance, statistics, electrical engineering and systems science, and economics. Materials on this site are not peer-reviewed by arXiv. 
3. ResearchGate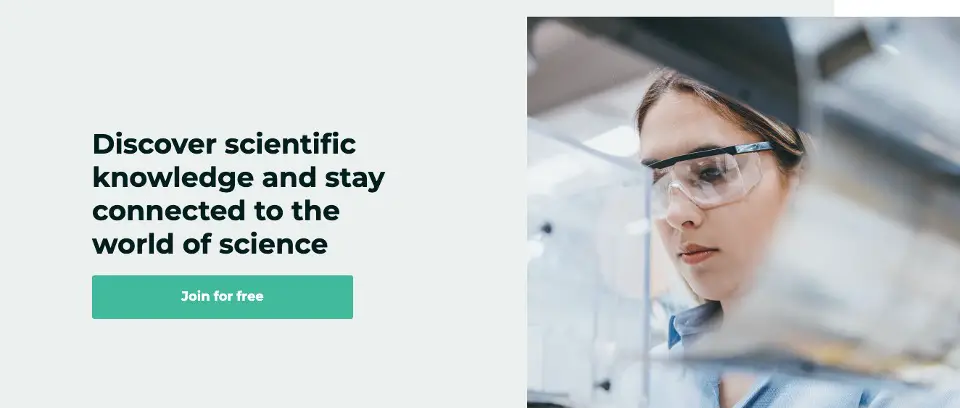 ResearchGate is a European commercial social networking site for scientists and researchers[2] to share papers, ask and answer questions, and find collaborators. According to a 2014 study by Nature and a 2016 article in Times Higher Education, it is the largest academic social network in terms of active users, although other services have more registered users, and a 2015–2016 survey suggests that almost as many academics have Google Scholar profiles. While reading articles does not require registration, people who wish to become site members need to have an email address at a recognized institution or to be manually confirmed as a published researcher in order to sign up for an account. Members of the site each have a user profile and can upload research output including papers, data, chapters, negative results, patents, research proposals, methods, presentations, and software source code.
4. CiteSeerx

CiteSeerX (formerly called CiteSeer) is a public search engine and digital library for scientific and academic papers, primarily in the fields of computer and information science. CiteSeer is considered as a predecessor of academic search tools such as Google Scholar and Microsoft Academic Search. CiteSeer-like engines and archives usually only harvest documents from publicly available websites and do not crawl publisher websites. For this reason, authors whose documents are freely available are more likely to be represented in the index. CiteSeer's goal is to improve the dissemination and access of academic and scientific literature. As a non-profit service that can be freely used by anyone, it has been considered as part of the open access movement that is attempting to change academic and scientific publishing to allow greater access to scientific literature. CiteSeer freely provided Open Archives Initiative metadata of all indexed documents and links indexed documents when possible to other sources of metadata such as DBLP and the ACM Portal.
5. Scopus

Scopus is Elsevier's abstract and citation database launched in 2004. Scopus covers nearly 36,377 titles (22,794 active titles and 13,583 inactive titles) from approximately 11,678 publishers, of which 34,346 are peer-reviewed journals in top-level subject fields: life sciences, social sciences, physical sciences and health sciences. It covers three types of sources: book series, journals, and trade journals. All journals covered in the Scopus database are reviewed for sufficiently high quality each year according to four types of numerical quality measure for each title; those are h-Index, CiteScore, SJR (SCImago Journal Rank) and SNIP (Source Normalized Impact per Paper). Searches in Scopus also incorporate searches of patent databases.
C. Information Collection Tools: Survey & Web Data Collection Tools
1. Google Forms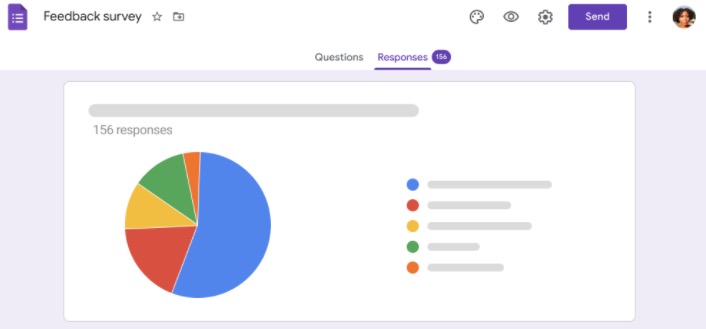 Google Forms is a simple option for you if you already have a Google account. It supports menu search, a shuffle of questions for randomized order, limiting responses to once per person, custom themes, automatically generating answer suggestions when creating forms, and an "Upload file" option for users answering to share content through. Moreover, the response can be sync in Google Drive, users can request file uploads from individuals outside their respective company, with the storage cap initially set at 1 GB.
2. Survey Monkey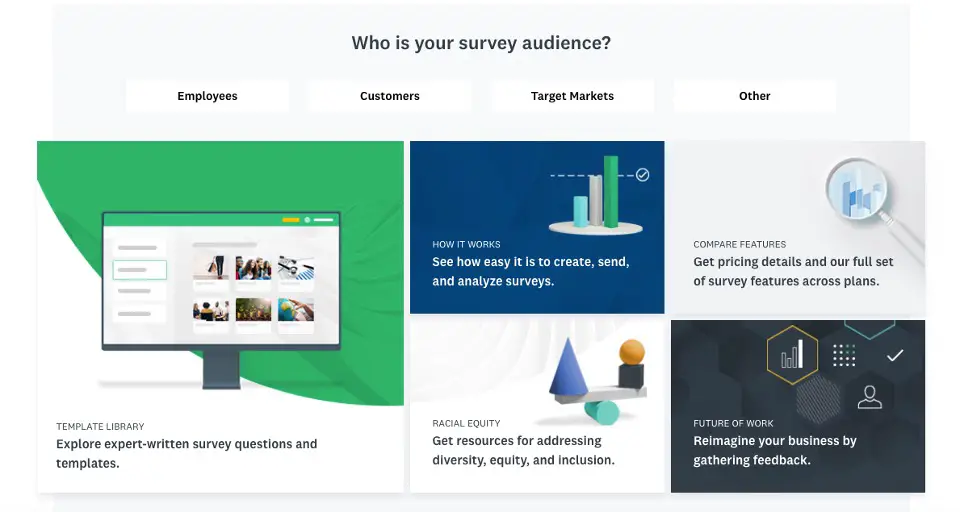 Survey Monkey is quite a well-known name in the field but is also costing. It is a great choice for you if you want an easy user interface for basic surveys, as its free plan supports for unlimited surveys, however, each survey is limited to 10 questions. Manage multiple users and gain visibility into all survey data collected across your organization with admin controls and dashboards. Ensure confidential data is protected with enhanced security including encryption, SSO, and features that help you remain compliant with HIPAA and GDPR.
3. Alchemer

Alchemer can be customized to meet a wide range of data-collection demands. The free version has up to 25 question types, letting you write a survey that caters to specific needs. It also offers nearly 100 different question types that can all be customized to the user's liking. From survey software to enterprise customer-feedback management, Alchemer helps organizations understand and transform how they engage with their markets, customers, and employees. And with more advanced capabilities than SurveyMonkey and lower expense and complexity than Qualtrics, it's no wonder why thousands of organizations of all sizes choose Alchemer. 
4. Crowdsignal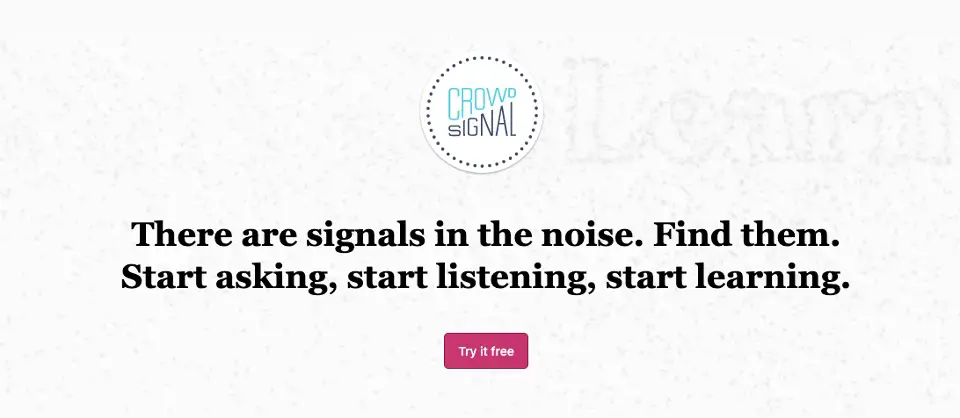 Crowdsignal is online survey software that allows users to embed surveys on their website or inviting respondents via email. Its free version supports unlimited polls, 19 types of questions, and even adding images, videos, and content from YouTube, Flickr, Google Maps, and more. You have things to get done. You need info to do them well. Drag and drop your way to a survey or poll in minutes. A simple tool, but surprisingly powerful.